Our Chair cover division, Seat Treats, was established in 2011 and is an inexpensive way to make tired and old banquet chairs come alive and best of all…NO ironing! The founder of Seat Treats sourced a supplier in Pakistan to create these unique spandex chair covers and imported them to Regina along with coordinating spandex chair bands.  Click here www.seattreats.ca to go to the Seat Treats website to view all colours available.
Now under new ownership in 2014, Seat Treats was spun off into its own chair cover division within Exquisite Events and Wedding Décor in order to offer a one stop shop for the bride with discriminating taste.
New for 2015!
In addition to the 20 colors of chair bands offered on our Seat Treats website, we have also added a new line of wider chair bands with an alternative to the silver diamonelle buckle—bling, rhinestone circle pins or rhinestone vintage pins and in the most up to date colours. See just a few below.
Our version of Tiffany blue (with bling)     Wide black (with optional double diamond pin).
Wide white band with burlap cuff                        Wide plum chair band with vintage brooch
Wide bands also available in apple red, white, fuschia and burgundy (also known as Marsala–Pantone colour of the year for 2015!).
We are pleased to now carry ruched spandex chair covers (available in white or black):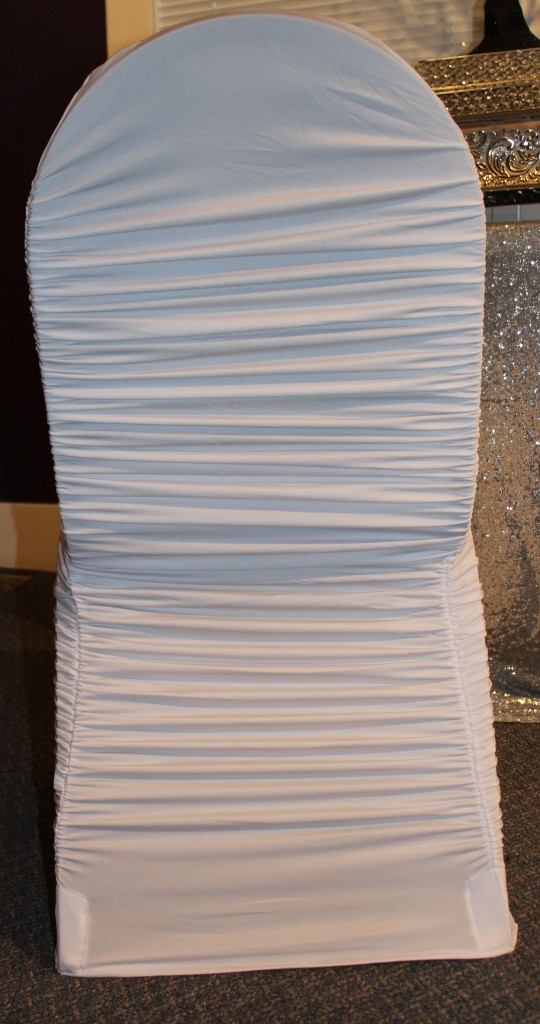 Custom Couture Covers
Looking for unique look for your chair covers?  Have us design a look just for your event.  Here are just a few examples of accessories added to take the plain chair cover to the next level!
Chair covers for Folding Chairs–Yes we have them!!
Are you using folding chairs for your special event?  We now carry spandex chair covers designed specificially to fit folding chairs.  Available in both white and black and all of our chair bands can coordinate with them.
We make sure that our rental inventory is well maintained. It is important that we have sturdy covers that can resist the wear and tear that comes with the constant tugging that occurs in the setup and tear down process. For more information about our chair covers and all the band colours we offer,  click here www.seattreats.ca to view the Seat Treats website.
It is your day, so go ahead and add all the little touches to make it an Exquisite Event!